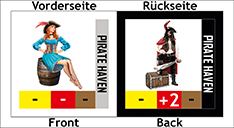 Notes / Hinweise
The status of a pirate haven is defined by a marker. An unknown pirate haven is marked with the bright side; an already discovered pirate haven has a dark

silhouette

. Only a known pirate haven may be smoked out by a nation. A pirate haven can be discovered in the administration phase by a DR of 1.
Der Status eines Piratennestes wird anhand eines Markers definiert. Ein unbekanntes Piratenversteck wird mit der hellen Seite gekennzeichnet; ein bereits entdecktes Piratennest ist dunkel markiert. Nur ein entdecktes Piratennest darf von einer Nation ausgeräuchert werden. Ein Piratennest kann in der Administrationsphase durch einen DR von 1 entdeckt werden.