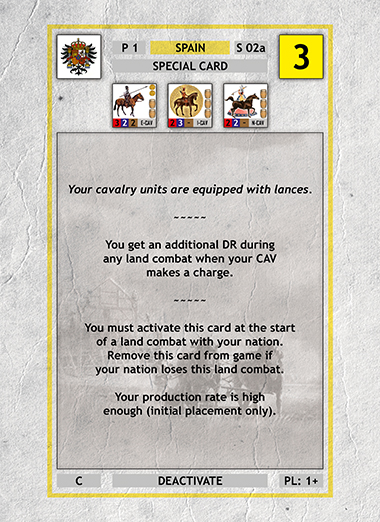 Notes / Hinweise

Every nation has a number of special cards which improve its abilities. These cards are marked with the phrase SPECIAL CARD. Unused special cards also improve your card hand (see order of play during the action phase).

Monopolies and concessions are no special cards.

Jede Nation verfügt über mehrere Sonderkarten, welche deren Fähigkeiten verbessern. Diese Karten sind mit dem Begriff SPECIAL CARD gekennzeichnet. Ungenutzte Sonderkarten verbessern zudem die eigene Kartenhand (siehe Spielerreihenfolge während der Aktionsphase).

Monopole und Konzessionen sind keine Sonderkarten.